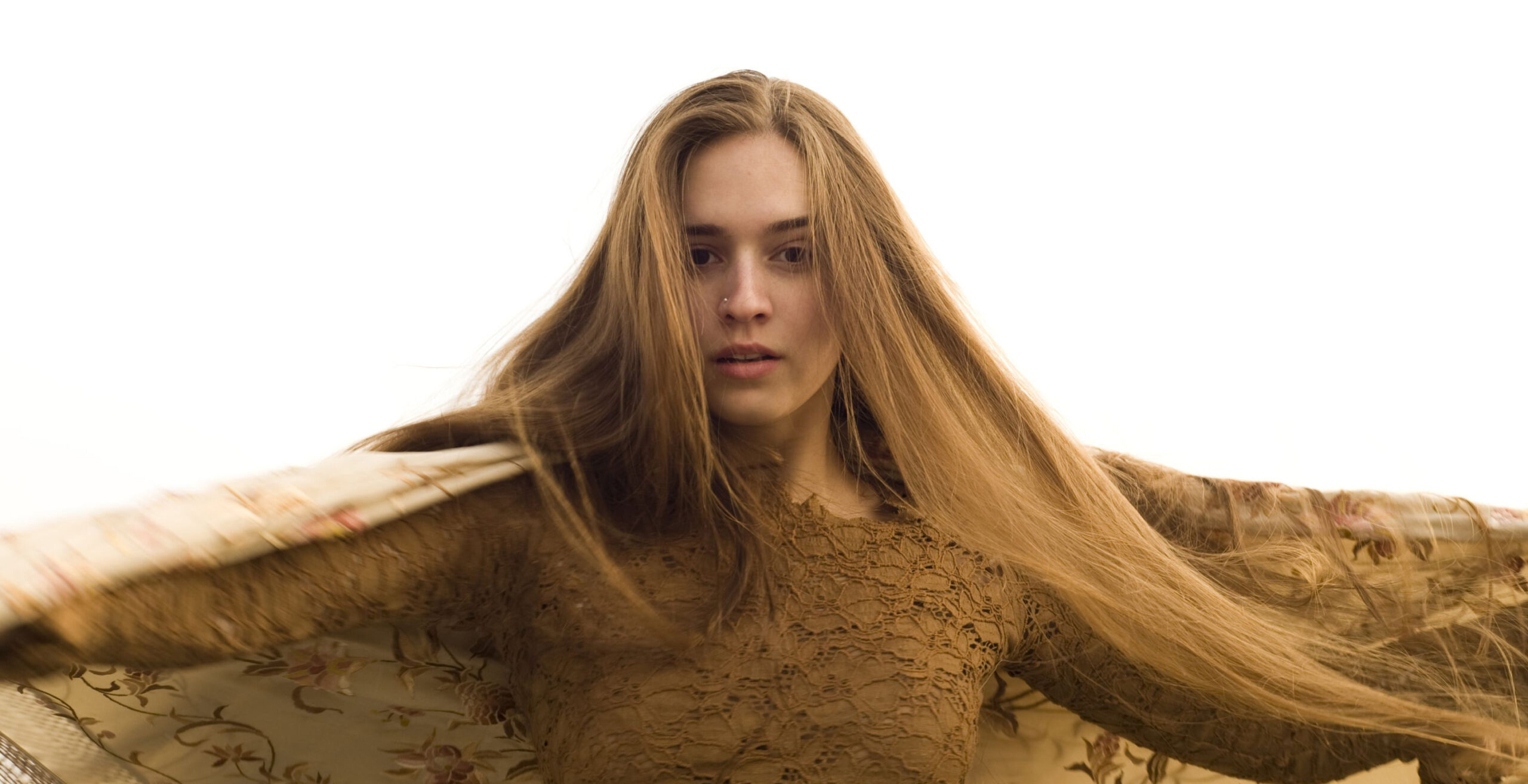 For as long as I can remember, Dance and Music have been my home, my refuge, my hiding place, my path, my language, my medicine, my sanctuary. They are two of the tools that help me to feel most self-identified and honest, and to create a space where I can connect deeply with others and myself, reveal my most hidden self, create, enchant and heal.
I have studied piano for almost ten years, sang in choirs for a long time, worked with classical and folk songs, studied and still dance many different dances: Hungarian folk, Roma, Argentine tango, contemporary and modern, but none has touched me as deeply and as fatally as flamenco. 
I first encountered flamenco as a child when I was nine years old and I knew then that every cell in my body resonated with this culture, as if I had known it really well for a very long time. I lived in Spain for nine years as an adult to get to the bottom of it, to absorb it, to experience it first hand and to embrace it. It was a decision that involved many difficulties and sacrifices, but I have never doubted its legitimacy, because ever since I first learned it, I have felt it in my blood and in my bones, I have experienced flamenco as my inseparable destiny.
I first felt the call to teach flamenco dancing at the age of 16. At the time, I didn't know exactly what it was that made me so eager to pass on my knowledge. After almost twenty-five years of experience, countless courses and workshops all over the world, I now know exactly that teaching is my vocation and that flamenco or gypsy dance technique is just a tool to inspire my students, to initiate them on a special path of self-discovery, to support them in discovering and developing their body and soul.
Accordingly, and with this in mind, I began to work in art, dance and music therapy, and to research all kinds of methods that could serve the aforementioned purposes. 
At the moment, I am involved in various activities outside of music and performing arts: I hold long and intensive dance classes, women's circles, sound baths, sound massages. 
My methodology is characterized by a combination of my personal intuition and my studies and experiences: dance techniques, body awareness, improvisation, art therapy exercises, meditation, relaxation, visualization, breath work, mindfulness, yoga, therapeutic massage, sound training, rhythm exercises, intuitive singing exercises, sound therapy.
Modern choreographer training Hungarian Dance Academy, Budapest, Hungary (2002-2005)
Erasmus programme Palucca Hochschule für Tanz, Dresden, Germany (2004)
Medical masseur training Institute of Health Care, Budapest, Hungary (2008-2009)
Master in Music Therapy Facultad de Medicina, Universidad de Alcalá, Alcalá de Henares, Spain (2008-2011)

Dance studies Centro de Arte Flamenco y Danza Española Amor de Dios and Libres y Descalzas Estudio de Arte, Madrid, Spain (2006-)
Flamenco dance/singing teacher/dance therapist:
Flamenco Dance and Art Experimental Centre in Novi Sad, Novi Sad, Serbia (2004-2009)

Octopont Dance School, Budapest, Hungary (2007-2009)

Pécs Flamenco Association, Pécs, Hungary (2008-)

Espacio de Arte Dance Studio, Madrid, Spain (2012-2018)

Alma de Flamenco Dance Academy, Fukuoka and Osaka, Japan (2012)

'Curso Flamenco Raíces' project, Budapest, Hungary (2018-2019)

Instituto Cervantes de Budapest, Budapest, Hungary (2018)
Women's Roma dances/meditative circle dance instructor:
Fundación Entredós and Libres y Descalzas Estudio de Arte, Madrid, Spain (2017-)

'Express what you feel' project, Mérida, Spain (2017)

Hungarian Cultural Institute, Zagreb, Croatia (2019-)

Danzas Sin Fronteras festival, Talavera de la Reina, Spain (2016-)

'Freedom and Passion' workshop series, Budapest, Hungary (2017)
Music therapist:
Hungarian Cultural Institute, Ljubljana, Slovenia (2018-)

University of Ljubljana, Faculty of Education, Ljubljana, Slovenia (2022-)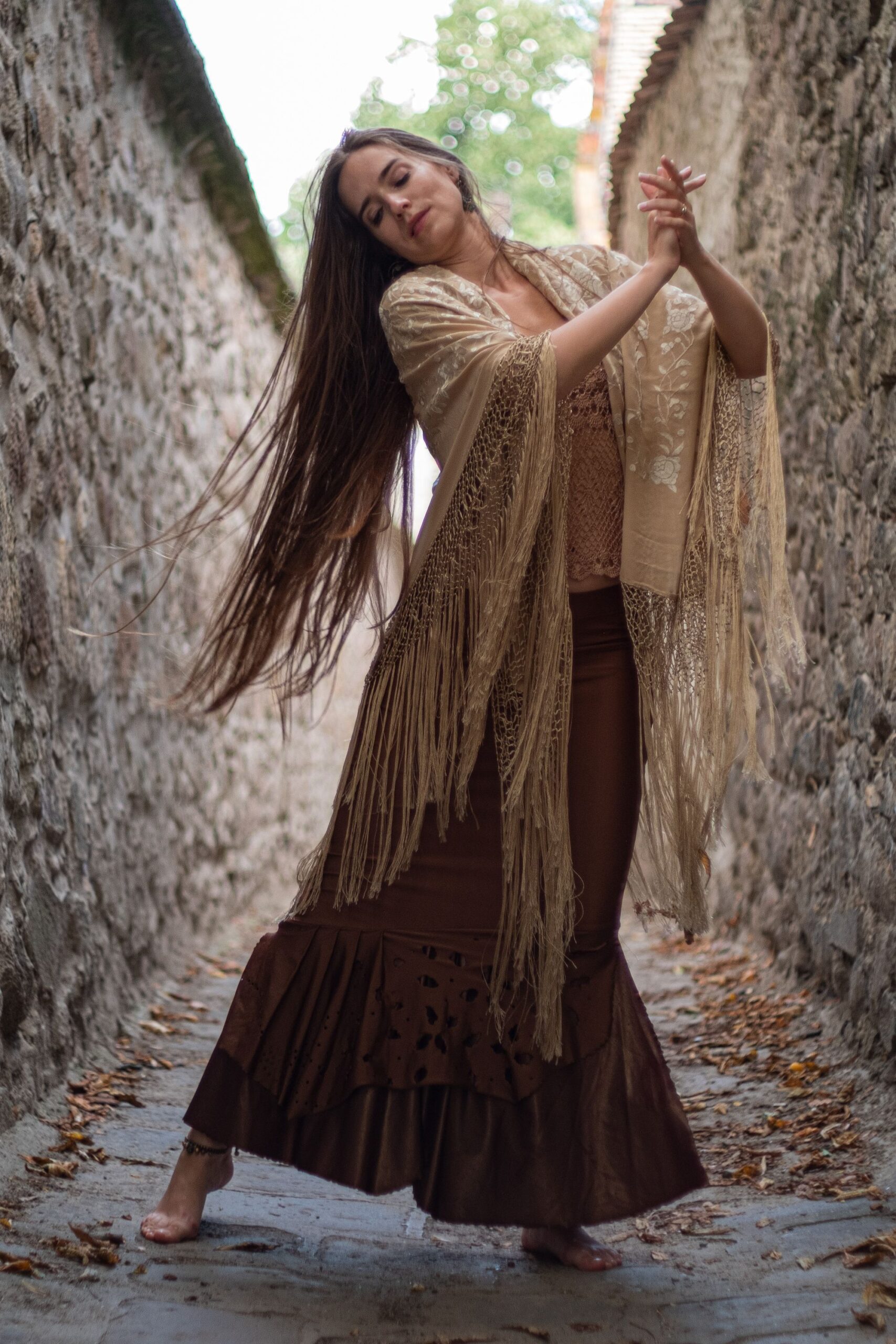 Flamenco, urban flamenco, women's Roma dances, long term and intensive courses and women's circles:
Spain (Madrid), Hungary (Budapest, Pécs, Leányfalu), Serbia (Novi Sad, Belgrade, Nis), Germany (Dresden), England (London), Norway (Oslo), Slovenia (Ljubljana, Maribor, Velenje, Mislinja), Italy (Trieste, Muggia), Estonia (Tartu, Tallinn, Viljandi), Latvia (Riga), Croatia (Zagreb), Mexico (Tulum) and Argentina (Buenos Aires) (2004-)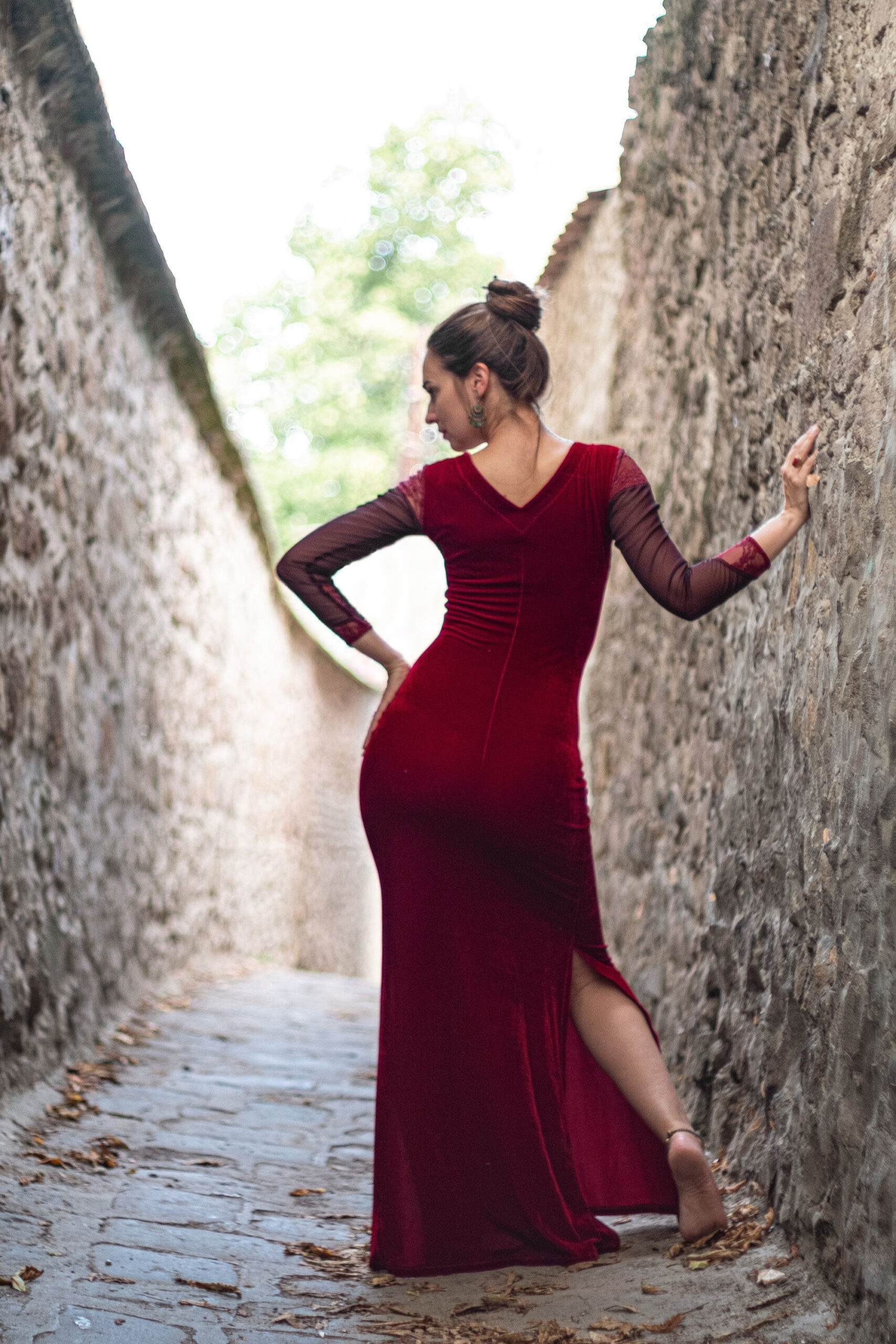 As a dancer/singer/songwriter/percussionist:
Nuestro aire (flamenco fusion), Fringe Grand Prix, Budapest, Hungary (2007-2009)

De Cobre (Roma flamenco fusion), Madrid, Spain (2010-)

Ethnómada (world music), Madrid, Spain (2011-)

Miguel Reyes Sextet (world-jazz-flamenco fusion), Madrid, Spain (2011-)

Pellizco del Foro (traditional flamenco), Madrid, Spain (2016-)

Ex Auro (world flamenco fusion), Ljubljana, Slovenia (2017-)

Teo y la Mar (traditional flamenco and original flamenco compositions), Ljubljana, Slovenia (2022-)
Artistic director, dance teacher and artistic therapist:
Luna Gitana, Cultural and Artistic Association for the Promotion of Flamenco, Ljubljana, Slovenia (2020-)
I presented my above-mentioned art projects at many prestigious festivals, theaters and clubs in Hungary, Spain, Serbia, Transylvania, Croatia, Slovenia, Austria, Finland, Estonia, Latvia, Norway, England, Japan, Argentina and Mexico, and I also performed in Madrid's cultural centers in the organization of Madrid Activa and  CuidaDistrito, at the 10th Berlin Flamenco Festival, the 2nd and 8th Zagreb Flamenco Festivals and the 5th Flamenco On Fire Flamenco Festival in Pamplona.
As a flamenco dancer, I have performed regularly and still perform as a guest at some of the most prestigious Spanish and international flamenco tablacos: Candela, Cardamomo, Café de Chinitas, Café Berlin, Café Ziryab, Amor de Dios, Taberna Flamenca El Cortijo, Sala Barco, Pueblo Inglés-Casa Patas/Madrid, La Madriguera de Mai, Laberinto Art Lab/Seville, Spain, Tablao Flamenco El Cortijo/Stuttgart, Germany, Costa Dorada/London, England, Brindamos Finlandia/Helsinki, Finland, Perro Andaluz/Buenos Aires, Argentina (2010-)
"Maria sings and dances with an absolutely unique sensitivity, elegance and personality. And those qualities are not enough: she also had the curiosity and wisdom to know how to combine flamenco with the traditional music of her native Hungary to create a unique and beautiful art form. And if there is one adjective that sums up and defines Maria and her art as a whole, it is 'beautiful'.
"Maria Keck's art of flamenco radically innovates the genre by incorporating Hungarian and gypsy melodies, rhythms and movements in a consistent and organic way in her songs and choreographies. The painful fact that Maria has left Budapest years ago, where she has become a dominant figure in the flamenco scene and where a small cult has developed around her - mainly because of the growing number of her students - gives her rare concerts a special flavor. Budapest would be a better city if it had a beach. But we would feel much better if we could experience the wonder of Maria's stage presence more often. "
"Her voice comes to us like a filtered, warm light descending from beyond the canopy of the winged trees. Who knows if we are still on the ground by then? At that moment it could be autumn and spring at the same time, it doesn't matter. In the promise of life; pollen floats in the air and seeds dissolve in a helicoidal dance. There is something in Maria's art that only her most intimate possession reveals, her own point of gravity that knows no time: magic".
"The experience of the moment is, to some extent, the measure of all art... music has an effect, it can drift when it needs to, it can devote when it needs to, it can be recorded, it can be echoed, it can be eternal if I want it to be... but then there is dance, which is perhaps also the kinetic energy squeezed out of the moment. If this is coupled with the elusive quality of feminine beauty, of feminine elegance, then it can only be seen once and for all there, on stage... it cannot be recorded, because looking back it will never be what it is. It is this magic of dance, which makes use of every unexpected moment, that Maria Keck possesses. "
Ethnómada -
Keserédes (2015)
Maria Keck -
De Cobre (2017)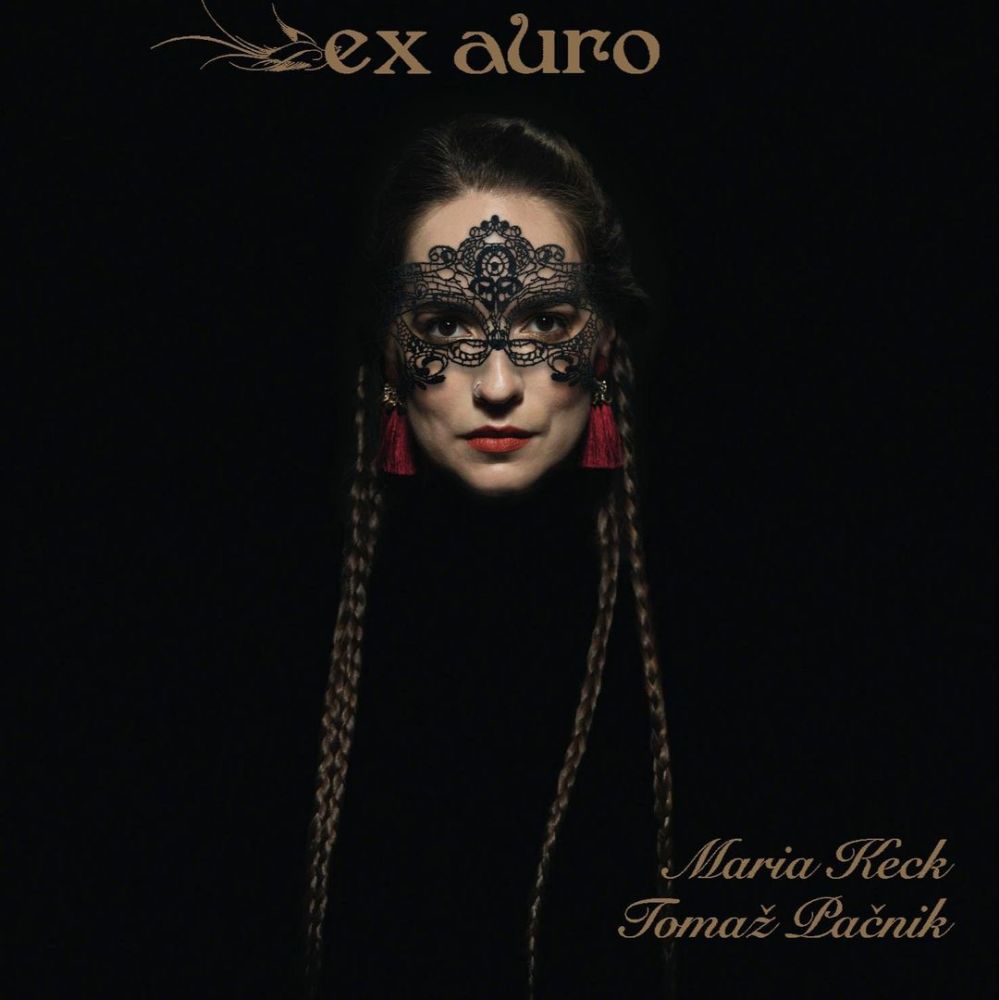 Maria Keck, Tomaž Pačnik -
Ex Auro (2020)
Maria Keck -
Sansula Songs